A community of women investing in Latin America across Venture Capital, Private Equity, Family Offices, Accelerators, and Angel Investments.
At WeInvest, our main objective is to bring together women with investment making power in order to advance innovative opportunities within Latin America, while simultaneously providing our community with a space to upskill, empower, and inspire each other.
WeInvest Latin American Community
WeInvest LatAm Directory:
The WeInvest LatAm Directory is a dynamic community building tool that facilitates shared experiences and knowledge amongst peers, creates new networking opportunities, and enhances market diligence. The directory is open to women employed full-time in the following capacities: VC / PE funds (General Partners to Analysts), Fund-of-Funds (Limited Partners), Angel Investors, Senior Fund Operation Professionals (CMO, COO, CFO), Accelerators, Service Providers (Lawyers, CPAs, Recruiters), and Aspiring Investors.
Please note that while service providers and aspiring investors are included within the directory, only Investor Access members can view the directory.
WeInvest LatAm Slack Group:
The WeInvest Slack Group is a private community platform for Investor Access members to engage daily across numerous interest channels. These channels act as micro-communities within our Latin America wide network where members regularly share resources, organize educational and social events, and actively network.
Please note that the Slack Group is only available to members with Investor Access.
WeInvest is dedicated to educating our members on a variety of hard and soft skills. As a community we come together to share our knowledge, upskill one another, and rise together within the Latin American investment landscape.
WeInvest LatAm is currently represented across +23 countries globally
Argentina

Bolivia

Brazil

Canada

Chile

Colombia

Costa Rica

Dominican Republic

Ecuador

El Salvador

France

Germany
Guatemala

Mexico

Paraguay

Perú

Puerto Rico

Spain

Trinidad and Tobago

United Kingdom

United States

Uruguay

Venezuela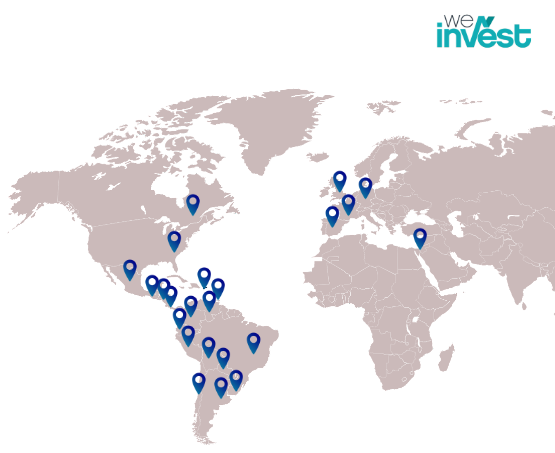 WeInvest operates three types of memberships
Investor Access:
Includes: VC / PE funds (General Partners to Analysts), Fund-of-Funds (Limited Partners), Senior Fund Operation Professionals (CFO, COO, CMO), Accelerators, and Angel Investors.
Aspiring Investor Access:
Women interested in becoming investors or emerging fund managers currently raising a first-time fund.
Service Provider Access:
Professionals that provide ancillary services that support investment making such as lawyers, accountants, investment bankers, headhunters, consultants, etc.